Brian Rochefort
Surface Tension-Brian Rochefort at Galerie Lefebvre & Fils
Like the simmering crater of an active volcano, Brian Rochefort's sculptural ceramics are fraught with unexpected surface tension. Applying layers of slip and glaze on hand formed vessels and then firing them repeatedly to create an extreme crackle effect to the point where they frequently explode, the resulting cups, vessels and wall pieces reveal vibrant colors, fissures, density and textures that at times seem to ooze off the surface. Some of his work, energy gloops as he refers to them, seem like they could be samples taken from an eruption site, as if they were dusted off to reveal some sort of ancient chalice caked in freakishly colored lava. Take a microscope and go down a rabbit hole into the depths of the details found in the yellows, whites, grays, blues, pinks, dots, stripes, and chunks that could suggest the earth's strata, or the magical flora that hides deep within nature.
Rochefort is not an environmental artist per se, but he has a deeply personal and physical connection to the earth. For more than a decade he has worked non stop with clay. Using the cylinder vessel form and its lumpier relations, as a canvas for developing his very painterly, expressionist surfaces that reflect his interest in artists such as Willem de Kooning, Yayoi Kusama and Kazuo Shiraga, he has more recently been exploring his medium as a way of grasping, connecting, and challenging the landscape, and the both the powerful and fragile beauty of the earth. Growing up playing in the woods of Rhode Island, followed by a couple of years living under the vast skies of Montana, and more recently through frequent travels to places such as the Galapagos, the ATM Caves in Belize, New Mexico and Ecuador, the landscape is seeping into Rochefort's work. It is becoming earthier in a sense, without compromising its individual experimental-ness.
For many artists, the landscape has a way of sneaking up on them and getting into their headspace; Whether an urban-scape, such as with Piet Mondrian when he came to New York City and went boogie-woogie, or Utah and the American West's influence on Robert Smithson for example. In Rochefort's case it remains more fragmented and poetic. You see the landscape, but you don't. He himself sees it as a sort of love letter to these magnificent places which are slowly evaporating or being infringed upon, rather then an attempt to explain it or dominate it. His nearly transcendent experiences in remote locales like the deep forests of Tikal in Guatemala, have left him with a sense of responsibility as well. How can our own individual actions affect the larger world?
Though he was referring to the state of literature at the time, Irish author Samuel Beckett once said in an interview, "To find a form that accommodates the mess, that is the task of the artist now." In many ways Brian Rochefort uses ceramics to try and get a handle on the mess of the world, not in any preachy way, but as a way to understand it and as attempt to honor and bring an awareness to the beauty as well as the tragedy that is still there in the mess, and there is an urgency in understanding this mess. His repetitive and layered process, the very physical energy that is put into each piece, and which is contained within each piece, is like a study in controlled chaos, a balance between freedom and constraint, creation and devastation.
With a sincere appreciation for ceramics and its history, Rochefort subverts the very medium he loves in order to open it up into something other. He pushes the extremes, transforming the object into something nearly alien, without specific form or function, but rather the results of action and manipulation. "The dialectic between place and change can provide the kind of no-one's-land where artists thrive," states critic and activist Lucy Lippard in her introduction to her 1997 book the "Lure of the Local" and it seems as if Rochefort is coming into this zone, where creativity is flowing through the right channels.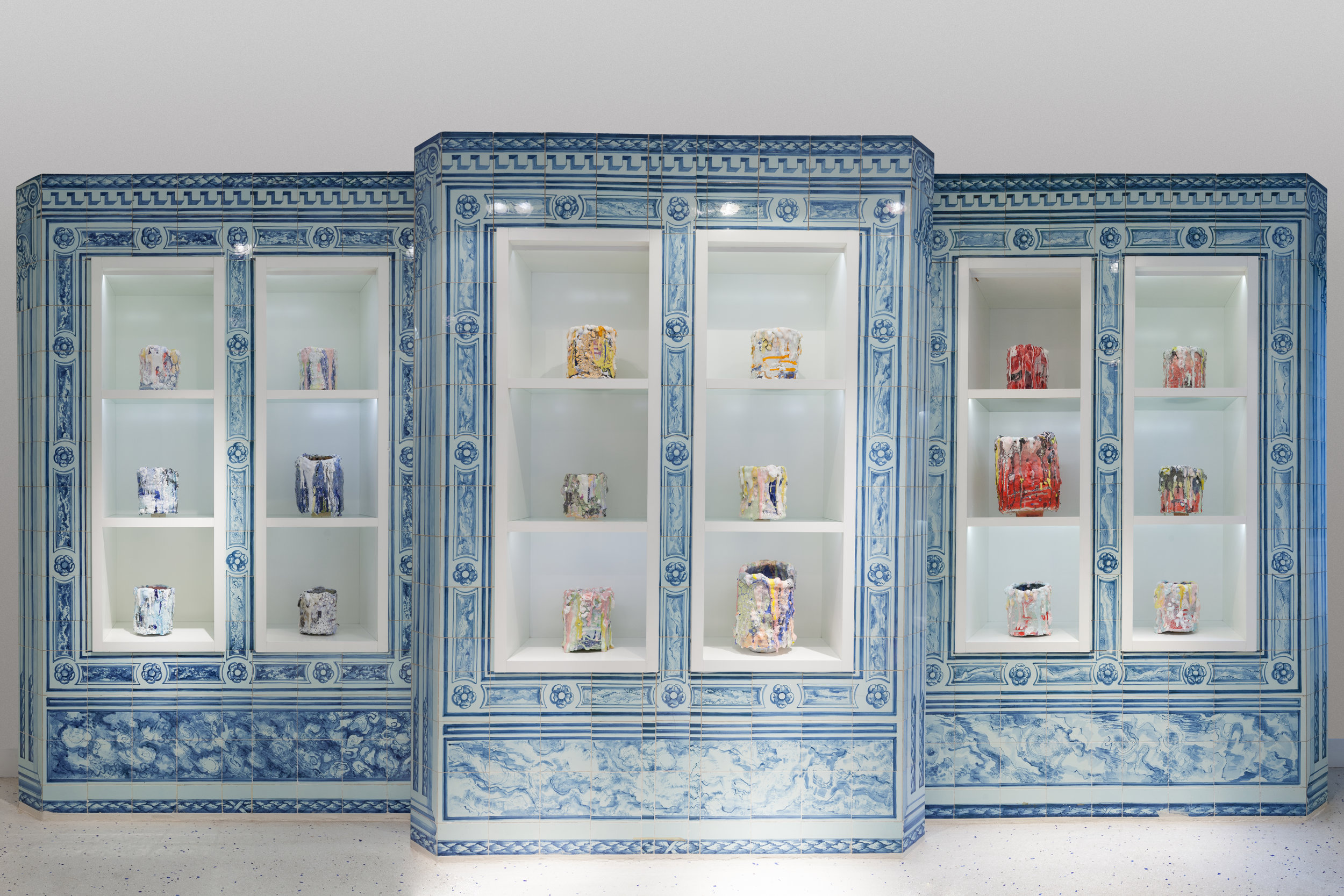 Jay De Feo
Jay De Feo: A Bohemian in Paris
Frank Elbaz Gallery presents the first solo exhibition in Paris of Jay DeFeo (1960-1989), a San Francisco Bay Area artist who was a formative part of the Beat Generation of artists including Bruce Conner and Wallace Berman.
The exhibition of drawings, collages, painting, and black and white photography, provides an interesting cross-section of DeFeo's work that spans her career and emphasizes the connections that link her artistic practice across mediums and time. After receiving her Master's in Fine Art from UC Berkeley in 1951, she was awarded a fellowship which she used to travel around Europe and North Africa in 1951-52, foreshadowing the same trips her better known contemporaries like Gregory Corso and William Burroughs would make soon after. This trip was hugely formative for DeFeo and early drawings made during her time spent in Paris in 1951, already demonstrate her exploration of depth, darkness, voids and space. The swirling lines, circles and deep black stains on paper are echoed in her later work right before her death in 1989, including a series titled "Reflections of Africa," originally inspired from her trip to Morocco, in which deep cuts built up through shadow and line bring the eye into inner cores and unexpected twists across the paper.
One of the larger works in the show is the acrylic on Masonite painting, Pend O'Reille No. 2, (Eternal Triangle series), 1980. It appears unfinished at first glance, this undeveloped form hovering in the central plane of the board, but upon closer look, that form becomes a mix of organic shapes, references to the body, to caves, and geometry.
One of the most revealing features of the show is a selection of black and white, gelatin silver prints taken by DeFeo following the removal of the monumental and legendary sculptural painting, The Rose, 1958-1966, from her Fillmore Street studio. She was at a turning point, if not blocked artistically about how to continue her career as a painter and she began taking photographs as a way to keep exploring the world through art but with an entirely new medium. The results are illuminating and underscore her vision, always capturing the shadows, voids, fragments and mystery of the natural world. Her instincts for materials and textures seen in her layered drawings and collages comes through just as strongly in these small photographs which are jewel-like in their subtle beauty. Close-ups of muddy river banks, wrapped bundles including an image of the cast from her dog, named R. Mutt, after he broke his leg, and still life's that include broken wine glasses or cracked vases, all confirm her sharp eye for form, surface, and composition, and her continued interest in the triangle.
Also included in this series of photographs are two Untitled images from 1973 of ripped fragments of an older painting, the images of which foreshadow a large painting/collage titled Tuxedo Junction, made in 1974, and which is currently on view at the Pompidou Center in Paris as part of the "Beat Generation" exhibition. The story behind Tuxedo Junction is that when DeFeo left her Fillmore Street Studio she ripped off pieces of a painting from 1965 titled The Estacado, and kept them under her bed for a few years. They collected dust, got slightly rusty from being next to metal bed springs and so forth. We know she was at a crossroads in her career in the early 1970s, and one wonders if by looking at these pieces of painting several years later through the lens of her camera, it led to the inspiration for Tuxedo Junction, an unusual, but beautiful work that reminds us that DeFeo did not distinguish much between life and art, the two seamlessly flowing side by side, overlapping, influencing and transforming over time. The exhibition at Frank Elbaz is on view through July 30th.
Decorum: Artist's Weavings & Tapestries-Exhibition Review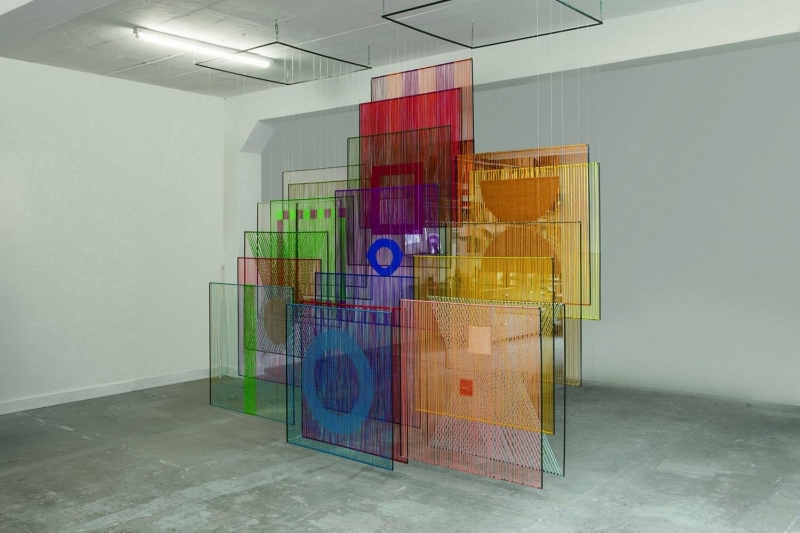 Decorum: Artist Weavings and Carpets at the Musee d'Art Moderne de la Ville de Paris
This exhibition was on view from October 11, 2013-February 9, 2014.
Published in the Spring 2014 issue of Fiber Art Now.
Decorum: Artist Weavings and Carpets is a comprehensive exhibition that brings together over 100 works of art including carpets, tapestries, weavings, installations, and sculptural work. The exhibition doesn't try to retrace the history of weaving in the 20th century, as Fabrice Hergott, director of the Museum of Modern Art in Paris, notes in the catalog introduction. Instead, curator Anne Dressen has chosen to present the work thematically in five sections: Painterly, Decorative, Orientalist, Primitive and Sculptural.
With over 20 artists in each section, Decorum generates an engaging visual dialogue within a large cross-section of styles and practices including hand woven and digitally produced weavings, conceptual installations and collaborative workshops, non-Western rugs by anonymous artisans, unique sculptures, and multiples. The exhibition highlights the relationship of textiles to contemporary art and artists with a nod to the recent trend of using fiber based mediums, such as the Neo-Craft movement, and the emphasis on the handmade, as seen in the work by Caroline Achaintre, whose colorful, hand-tufted wall hanging titled, Moustache-Eagle (2008), seems part shamanistic-part vintage shag rug, and Michael Beutler, whose gigantic installation, Weaving Workshop, 2009-2013, consists of an enormous handmade loom that measures roughly 8' x 10' x 19.5', with in-situ weaving that spreads out from the loom and throughout the final room in the exhibition.
Other contemporary practices with the medium are seen through the work of artists like Rosemarie Trockel, who has used knitting techniques and yarn in her highly conceptual artwork for decades; Mike Kelley, whose use of discarded or thrift store blankets and throws are repurposed to the effect of their original intent being completely subverted; and Los Angeles based artist, Pae White, whose spectacular wall hanging depicting a plume of billowy smoke, Berlin B, 2012, reflects the realm of possibilities offered in digitally produced, machine made weavings.
There is significant space dedicated to early 20th century artists as well. Taken as a broad theme, the Decorative section of the show investigates the development of weaving in workshops and schools such as the Bauhaus, the Omega Workshop, and the Vienna Secession. It looks at the link between design, craft, art, and architecture and how many artists worked within this crossover, particularly women, such as Anni Albers, Gunta Stotzl, and Evelyn Wyld who often collaborated with architect Eileen Gray.
Fernand Leger, Sonia Delaunay and Le Corbusier, who coined the term muralnomad to describe the virtues and possibilities of tapestries, are present in the Painterly section with beautiful wall hangings, as is Picasso with two large-scale, Cubist influenced tapestries titled, Femmes à leur toilette, 1967-70, that were made at the historical Gobelins workshop in France.
The link between old and new is made clear throughout the show. The inclusion of several works by anonymous artists or workshops from non-Western countries provides a refreshing counter-balance and underscores the importance of historical lineage of weaving. Examples include a stunning geometric abstract kilim from Iran, a gorgeous weaving from Tihuanaco, Peru, and a colorful tufted rug from Morocco, that is a current obsession in the design and interiors world.
There is a range of politically inspired work as well. Swedish-Norwegian artist, Hannah Ryggen, a self-taught weaver whose almost naïve figures and forms held messages about deep and threatening social issues of her day from Communism to WWII.
Pioneers of off-loom weaving, including free-form sculptural work and installation that took root in the 1960s appears in the Sculptural and Primitive sections of the show with work by Magdalena Abackanowicz, Jugada Buic, Sheila Hicks, Josep Grau-Garriga, and Elsi Giauque, represented with her fantastic installation, Spatial Element, 1979.
At times the installation feels chaotic and overwhelming but at the core it's an incredible opportunity to view work by so many talented, often overlooked and in some cases forgotten artists, and fully appreciate the diverse potential of this medium.
Sheila Hicks-Exhibition Review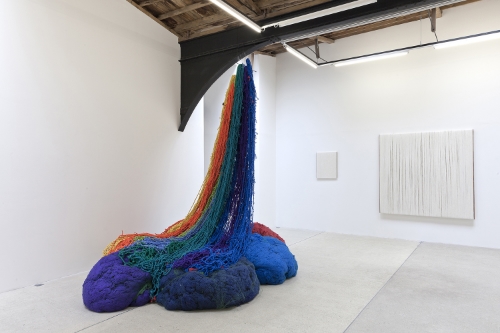 Unknown Data, Sheila Hicks at Frank Elbaz Gallery, Paris
Originally published in Fiber Art Now
In many ways, Sheila Hicks's work is about raveling and unraveling. In both a material and conceptual sense, she constantly challenges the possibilities of what fiber can be and how it can be perceived. Whether natural cotton or high tech threads, multi-colored or monochrome, her free-standing sculptures, wall-hangings and works on paper transcend categories of art, design, or craft, letting her be at once painter, sculptor, weaver, colorist, and poet.
Unknown Data, is Hick's first solo show with Frank Elbaz gallery, who will also present a solo show of her work at the upcoming FIAC art fair in Paris from October 23rd-26th. The exhibition presents a selection of new works that are deeply personal to the artist. This might appear on a metaphorical level such as the invisible threads hidden within the sculpture Cordes Sauvages, 2014 or more literally, such as with the series of small sculptural objects, titled Trésors des Nomades, 2014, in which she has hidden a small, personal object from one her many travels in the center of each layered bundle. Each small sculpture in Trésors des Nomades is a perfect example of Hicks's expertise with color. Though bound by a top layer of cords, underneath patches of color pop out, bright yellows mixed with rust, blue and red, or pink, yellow, and blues.
Sheila Hicks makes work that is highly sensory, often with the intention that it be touched or walked through, and this once again challenges the status of what art in a museum or gallery context can be. Atterrissage, 2014 begs to be brushed up against and even sat upon if we dare. Long twisted, colorful cords tumble from above, landing on the floor in a puff of colorful, fiber clouds. The title is a French word referring to the landing of an airplane and there is a strong sense of movement in this piece that visually anchors the exhibition space, drawing our eye up and across the room.
Hicks continues to challenge herself and her materials. With Tanné Cousu, 2014, she breaks away from her use of cords and threads, using pieces of dyed blue fabric that have been treated giving them a leathery texture. The pieces were then arranged into a large, geometric wall composition sewn at the seams with red stitching. Or in Drawing IV, 2014 in which tufts of indigo blue threads that suggest gestural brush strokes or calligraphy, have been pressed against a light ivory background and framed. To use the title of a current exhibition at the Drawing Center in New York, these pieces are literally thread lines, an act of drawing with threads.
Several of the works in the exhibition exude a spiritual, if not a shaman-like presence, such as with La Sentinella, 2013, a sculpture that feels nearly animated, as if it's about to give a little shake and shimmy or Cordes Sauvages, 2014 that seems out of a pre-Columbian myth, while still being a completely contemporary piece of art.
There is a powerful sense of connection within Sheila Hicks's body of work. A certain color, a piece of yarn or textile, a memory or a souvenir from a trip all feed into the relationships between the small, spontaneous gestures, or the large-scale architectural installations. For many, Sheila Hicks is herself a mythic being. A force of inspiration and creativity and as Unknown Data coincides with her 80th birthday it seems all the more important to mark her singular career as artist, designer, and visionary.
Exhibition Dates: September 6-October 18, 2014
The Spiral Jetty
The Spiral Jetty, Published in White Hot Magazine, October 2008
"The route to the site is very indeterminate. It's important because it's an abyss between the abstraction and the site; a kind of oblivion." This quote from artist Robert Smithson in an interview with William Lipske in 1969 aptly describes the experience of journeying to the Spiral Jetty, the earthwork Smithson created in 1970 in Rozel Point, in the Great Salt Lake in Northern Utah. Measuring roughly 1500 feet in length, the "Jetty" was constructed using large, black basalt rocks and earth from the area, the shape formed into place with the help of tractors and skip loaders. Most people who studied art and/or art history know about the Spiral Jetty. There is an aura of mystery that surrounds this work, partly because of the untimely death of the artist in 1973, and partly due to the fact that after nearly 20 years of being submerged, the Jetty reappeared on the scene in 2002, still in good condition. This resurfacing allows devotees of the earthwork and Smithson himself, to see it but that is not easy to do so…which may also be part of the allure.
With a road map and directions from the Dia Center in hand, (which acquired the work in 1999 from Smithson's estate), two friends and I headed north from Park City on our pilgrimage to the Spiral Jetty this August. It was a beautiful Utah desert day with a high, hot sun and dry as a bone. As you wind off the Highway 83, already a quiet road with not much around, you enter into Golden Spike National Monument. The geology of the landscape looks prehistoric, the horizon of undulating red and brown rocks goes on forever, and there is not much in the way of wildlife or shade. You feel the remoteness of the place immediately and when you pass the Golden Spike Visitor's Center (the last remaining civilization before getting on the dirt road to the Jetty), the real trip begins. Though there are infrequent small white signs pointing the way, the Dia Center directions are more fun to interpret. For example: "Drive 1.3 miles south. Here you should see a corral on the west side of the road. Here too, the road again forks. One fork continues south along the west side of the Promontory Mountains. This road leads to a locked gate. The other fork goes southwest toward the bottom of the valley and Rozel Point. Turn right onto the southwest fork, just north of the corral. This is also a Box Elder County Class D road."
Maybe it's more exciting for city dwellers like I am, who are used to describing distance in terms of how many blocks or street lights, but to be on the lookout for cattle girders and the skulls from long dead cows that lay along the road certainly adds to the sense of journey. As we bounced along the dirt road in our SUV, a flock of birds was doing a form of aerial dance above the Salt Lake in the far distance. Mountains surround the view and you are filled with a heightened sense of peace, isolation and vastness.
You first spot the Spiral Jetty as you near the last half-mile of the journey. The three of us yelled out "I see it," like we were kids spotting the signs for Disneyland. It is not like observing a painting in a museum of course, but this was part of Smithson's goal. The one thing I heard from people who'd visited the earthwork in the past was that it felt much smaller than expected. Perhaps this is true, but sitting out there all alone in the flat, rusty and white lake, it looked quite proud and noble.
The land was extra dry at the moment of our visit so we were able to walk straight out onto the jetty, the water starting just past the last spiral. The crystallized salt crunched beneath our feet and the sensation of walking along the rocks was spiritual in a way, particularly having seen the fantastic 45-minute film of the construction of the work. One sees Smithson strut along the jetty as it's being built, talking about his methods and ideas, evoking the contemporary vision of man and nature, macho yet classic. It's all there and it still comes across well after 38 years of existence.
Though the best view may be from the air, I don't think that such an experience would resonate without the off road driving which slowly lets the surroundings sink in and thus prepares you for actual engagement with the site. Since the Spiral Jetty has been reproduced endlessly just "see it", is not to properly understand what it represents. The earthwork is more than visual. It's about physicality, appearances and perception and how these concepts can be tossed and turned in such a lunar-like landscape. The remains on this landscape, the rusted cars, dead birds, and remnants of old oilrigs are supposed to be part o the work. (Currently there is talk about re-opening oil drilling in this area which could seriously damage not only the Spiral Jetty, but also the pristine beauty of the Salt Lake.) Part of the genius of Earthworks is that they force one leave one's typical environment and enter nature to experience something fresh and different. Smithson's Spiral Jetty is a true place, a marker of time and history. In that Utah landscape it is completely otherworldly.