Decorum: Artist's Weavings & Tapestries-Exhibition Review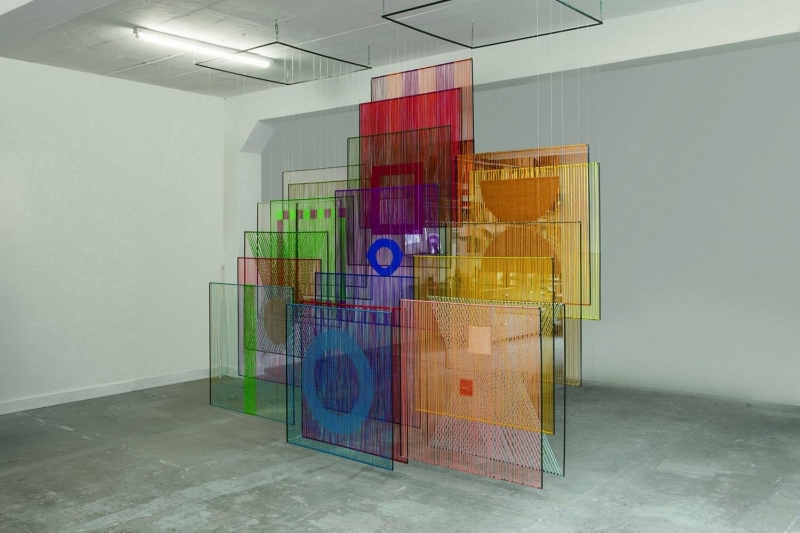 Decorum: Artist Weavings and Carpets at the Musee d'Art Moderne de la Ville de Paris
This exhibition was on view from October 11, 2013-February 9, 2014.
Published in the Spring 2014 issue of Fiber Art Now.
Decorum: Artist Weavings and Carpets is a comprehensive exhibition that brings together over 100 works of art including carpets, tapestries, weavings, installations, and sculptural work. The exhibition doesn't try to retrace the history of weaving in the 20th century, as Fabrice Hergott, director of the Museum of Modern Art in Paris, notes in the catalog introduction. Instead, curator Anne Dressen has chosen to present the work thematically in five sections: Painterly, Decorative, Orientalist, Primitive and Sculptural.
With over 20 artists in each section, Decorum generates an engaging visual dialogue within a large cross-section of styles and practices including hand woven and digitally produced weavings, conceptual installations and collaborative workshops, non-Western rugs by anonymous artisans, unique sculptures, and multiples. The exhibition highlights the relationship of textiles to contemporary art and artists with a nod to the recent trend of using fiber based mediums, such as the Neo-Craft movement, and the emphasis on the handmade, as seen in the work by Caroline Achaintre, whose colorful, hand-tufted wall hanging titled, Moustache-Eagle (2008), seems part shamanistic-part vintage shag rug, and Michael Beutler, whose gigantic installation, Weaving Workshop, 2009-2013, consists of an enormous handmade loom that measures roughly 8' x 10' x 19.5', with in-situ weaving that spreads out from the loom and throughout the final room in the exhibition.
Other contemporary practices with the medium are seen through the work of artists like Rosemarie Trockel, who has used knitting techniques and yarn in her highly conceptual artwork for decades; Mike Kelley, whose use of discarded or thrift store blankets and throws are repurposed to the effect of their original intent being completely subverted; and Los Angeles based artist, Pae White, whose spectacular wall hanging depicting a plume of billowy smoke, Berlin B, 2012, reflects the realm of possibilities offered in digitally produced, machine made weavings.
There is significant space dedicated to early 20th century artists as well. Taken as a broad theme, the Decorative section of the show investigates the development of weaving in workshops and schools such as the Bauhaus, the Omega Workshop, and the Vienna Secession. It looks at the link between design, craft, art, and architecture and how many artists worked within this crossover, particularly women, such as Anni Albers, Gunta Stotzl, and Evelyn Wyld who often collaborated with architect Eileen Gray.
Fernand Leger, Sonia Delaunay and Le Corbusier, who coined the term muralnomad to describe the virtues and possibilities of tapestries, are present in the Painterly section with beautiful wall hangings, as is Picasso with two large-scale, Cubist influenced tapestries titled, Femmes à leur toilette, 1967-70, that were made at the historical Gobelins workshop in France.
The link between old and new is made clear throughout the show. The inclusion of several works by anonymous artists or workshops from non-Western countries provides a refreshing counter-balance and underscores the importance of historical lineage of weaving. Examples include a stunning geometric abstract kilim from Iran, a gorgeous weaving from Tihuanaco, Peru, and a colorful tufted rug from Morocco, that is a current obsession in the design and interiors world.
There is a range of politically inspired work as well. Swedish-Norwegian artist, Hannah Ryggen, a self-taught weaver whose almost naïve figures and forms held messages about deep and threatening social issues of her day from Communism to WWII.
Pioneers of off-loom weaving, including free-form sculptural work and installation that took root in the 1960s appears in the Sculptural and Primitive sections of the show with work by Magdalena Abackanowicz, Jugada Buic, Sheila Hicks, Josep Grau-Garriga, and Elsi Giauque, represented with her fantastic installation, Spatial Element, 1979.
At times the installation feels chaotic and overwhelming but at the core it's an incredible opportunity to view work by so many talented, often overlooked and in some cases forgotten artists, and fully appreciate the diverse potential of this medium.