Sheila Hicks-Exhibition Review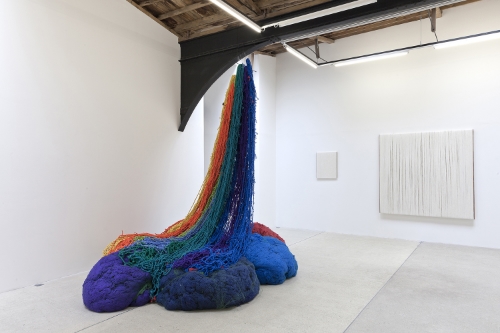 Unknown Data, Sheila Hicks at Frank Elbaz Gallery, Paris
Originally published in Fiber Art Now
In many ways, Sheila Hicks's work is about raveling and unraveling. In both a material and conceptual sense, she constantly challenges the possibilities of what fiber can be and how it can be perceived. Whether natural cotton or high tech threads, multi-colored or monochrome, her free-standing sculptures, wall-hangings and works on paper transcend categories of art, design, or craft, letting her be at once painter, sculptor, weaver, colorist, and poet.
Unknown Data, is Hick's first solo show with Frank Elbaz gallery, who will also present a solo show of her work at the upcoming FIAC art fair in Paris from October 23rd-26th. The exhibition presents a selection of new works that are deeply personal to the artist. This might appear on a metaphorical level such as the invisible threads hidden within the sculpture Cordes Sauvages, 2014 or more literally, such as with the series of small sculptural objects, titled Trésors des Nomades, 2014, in which she has hidden a small, personal object from one her many travels in the center of each layered bundle. Each small sculpture in Trésors des Nomades is a perfect example of Hicks's expertise with color. Though bound by a top layer of cords, underneath patches of color pop out, bright yellows mixed with rust, blue and red, or pink, yellow, and blues.
Sheila Hicks makes work that is highly sensory, often with the intention that it be touched or walked through, and this once again challenges the status of what art in a museum or gallery context can be. Atterrissage, 2014 begs to be brushed up against and even sat upon if we dare. Long twisted, colorful cords tumble from above, landing on the floor in a puff of colorful, fiber clouds. The title is a French word referring to the landing of an airplane and there is a strong sense of movement in this piece that visually anchors the exhibition space, drawing our eye up and across the room.
Hicks continues to challenge herself and her materials. With Tanné Cousu, 2014, she breaks away from her use of cords and threads, using pieces of dyed blue fabric that have been treated giving them a leathery texture. The pieces were then arranged into a large, geometric wall composition sewn at the seams with red stitching. Or in Drawing IV, 2014 in which tufts of indigo blue threads that suggest gestural brush strokes or calligraphy, have been pressed against a light ivory background and framed. To use the title of a current exhibition at the Drawing Center in New York, these pieces are literally thread lines, an act of drawing with threads.
Several of the works in the exhibition exude a spiritual, if not a shaman-like presence, such as with La Sentinella, 2013, a sculpture that feels nearly animated, as if it's about to give a little shake and shimmy or Cordes Sauvages, 2014 that seems out of a pre-Columbian myth, while still being a completely contemporary piece of art.
There is a powerful sense of connection within Sheila Hicks's body of work. A certain color, a piece of yarn or textile, a memory or a souvenir from a trip all feed into the relationships between the small, spontaneous gestures, or the large-scale architectural installations. For many, Sheila Hicks is herself a mythic being. A force of inspiration and creativity and as Unknown Data coincides with her 80th birthday it seems all the more important to mark her singular career as artist, designer, and visionary.
Exhibition Dates: September 6-October 18, 2014